Wonderful Wonderwool Wales
Last Sunday, the girls and I headed off to
Wonderwool
Wales at
Builith
Wells. I'd hoped to leave about 9.30am to ensure that we got to spend a reasonable amount of time there - browsing, drooling and enhancing stash!! However, I'd forgotten to take into account DD2's inverted daily life structure at the moment - sleeping all day and awake much of the night! So, maybe hitting the road at 10.30am wasn't too bad, all teenagers considering!
Here's what I bought!
Dream in Colour

Smooshy

~ November Muse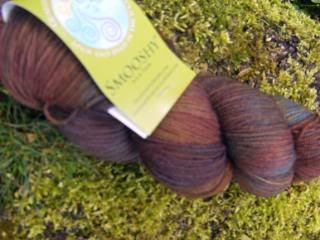 Artist's Palette ~ 2

Smootherino

4 ply and

Buttersoft

DK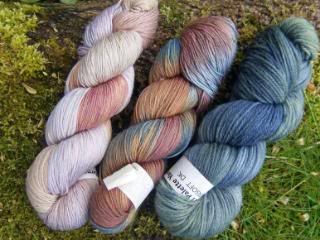 Grey Crafty Angora and Peaches and Cream Cotton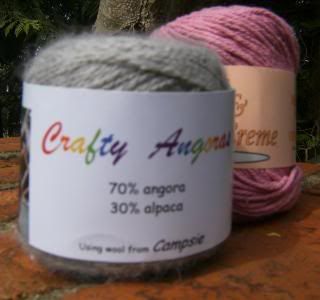 The show was well worth the travel and had a wonderful array of
yarn and fibre suppliers
. A very brief roll call of honour includes:
Artist's Palette

First 4 Yarns

Natural Dye Studio

Laughing Hens

The Woolly Workshop

The Old Piggery...
For those who had nerves of steel enough not to further enhance yarn stashes, there were spindles, looms, needles, books, buttons, fabric, felted items and a lovely selection of stitch markers. DD1 bought a lovely set of Russian Doll stitch markers, made by
Atomic Knitting
, for my birthday. There were alpacas, angora rabbits and sheep there to keep the younger folks happy (Truth be told, I reckon we ALL oohed and
ahhed
over the livestock!).
And for those who would not yet be converted to yarn love, a food fayre was sharing the same venue - with a wide range of
delicacies
available, including cheeses, sausages, scotch eggs, luxury steamed puddings. And a stall selling a range of ciders ... a couple of which are chilling in the fridge at the moment!
Unfortunately we missed the fashion show and the workshops (teaching a range of knitting, crochet, embellishment and button making techniques). There's always next year...
Labels: Wonderwool Wales