One, two, three ... not out!
The deafening silence here tells you how much knitting success I've been having recently;o)
Fetching
in Debbie Bliss

Cashmerino

Aran
Fetching
, by Cheryl
Niamath
, appears to have been my last project that went as intended. The yarn was a dream to work with and I'll happily use it again for some future project. The pattern was very clearly written and the cable work was a really nice re-introduction to cables after too long a break. The construction of the thumb was different and I feel my finishing was a little less elegant than the method used in the
Cranford
Mitts.
Now more of my knitting disasters!
Firstly, remember these? No Purl
Monkeys
, hot off the needles for DD1. She wore them once and her boyfriend laundered them....
One of the sad pair now looks like this! Doesn't it look a truly sorrowful wee sight?? And this is the young man who wants to marry my daughter;o) I've soaked it several times and with Herculean strength, and much cursing, managed to get it loosened enough to force on to a sock blocker. I reckon it's a lost cause though ...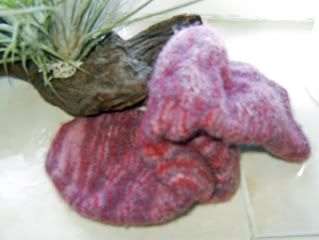 To
con'sole
' myself, I cast on another pair of socks. This time I planned to make the original
Monkey
pattern, by Cookie. I trawled through my stash and came up with the perfect yarn - a
Fyberspates
yarn in soft muted shades of yellow, brown and natural. Perfect! This was the 23rd pair of socks I've cast on and, as I've not yet got a pair to my name, were to be mine, all mine... The pattern's wonderful and was flying off my needles. As the length of the foot grew, I tried them them on - or tried to:o( They don't fit my clod hoppers without the risk of cutting off all blood supply to my feet! So, once SSS has been addressed, these may well become the replacement pair for DD1's lost socks!
Next, I cast on
Ribby

Yoke
sweater using
Sirdar
Eco yarn. How wrong could this go?? Well, true to form I did balls this one up too! For anyone else who starts this project, don't be an
eejit
like me and misread the pattern:
Work in st-st (throughout) work 89 rows

dec

1st at each end of the next and every following 8

th

row...
Hindsight is a wonderful thing, but such a shame it is
hind
and not
fore
sight in my case! The pattern was NOT telling me to decrease on the 90
th
row as I initially interpreted it... Frogging back 102 rows of very soft, slightly fluffy yarn is not fun! The project is now back on track with the back and nearly all of the front done.
The Eco yarn was ordered online and delivery was going to take a couple of days. Could I wait? Nope!
Startitis
was raging - and I cast on a
Climbing Vines
sweater. I love this pattern and had been itching to try it out. Unfortunately, it looks like I'll be itching, wearing it! I used some
Kilcarra
aran
that I'd stashed away. Now, the pattern is stunning... The yarn is lovely - but not something that you'd wear next to your skin, unless you have some serious masochistic streak or a very thick vest:o( It's not the pattern at fault, or the yarn - it's the dunderhead knitter that put the two together who's entirely responsible. If anyone can tell me that
Kilcarra
aran
softens up dramatically in the first wash, I'll be delighted. If not, it's to the frog pond for this one too and the
Kilcarra
will become an outdoor type garment which the yarn currently appears more suited to.
They say that things happen in threes, don't they?
Labels: Climbing Vines, Fetching, Kilcarra Aran, Monkeys, No Purl Monkeys, Ribby Yoke, Sirdar Eco dk