Festive gifts and greetings....
I hope this post finds us all well and looking forward to the festivities ... and with all planned Christmas projects finished and wrapped! As usual, I'm lagging but nearly there:o)
Mum's Forest Canopy Shawl is done and has hopefully wung its way home to Scotland. I reckon its safe to share pictures before the Big Day as I don't think any of my family have found their way to Blogland (though the kids all have friction burned fingers from their time spent on Bebo, Facebook and MSN!!).
Forest Canopy Shawl

- b

y Susan Lawrence




Knitted in Fyberspates Scrumptious DK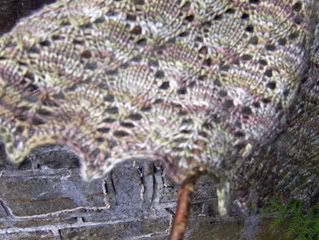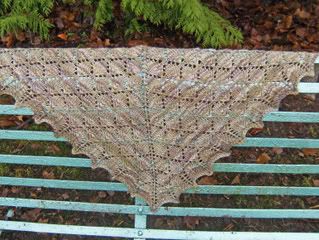 The Scrumtious yarn is an absolute dream to work with. It's 55% Bluefaced Leicester Wool with 45% Silk. This is the Moss colourway and it has the most beautiful muted shades of greens and soft browns. I'm itching to use this yarn again - but choosing the project carefully as the yarn needs to be handwashed seperately! Despite yarn love, I remain a housework/laundry sloth;o)
The Forest Canopy Shawl has proved such a popular and well loved pattern that I'm not surprised at all that the pattern has recently been amended to create a beautiful cowl version. This is one that has been knitted in Artesano Alpaca Hummingbird yarn and is another Christmas gift for a friend. The main part of the Cowl is knitted on 4.5mm circular needles. The lower edge is done on 5.5mm needles and has created some mighty interesting pooling in this yarn:o) But, hey, it gives clear guidance about which end is the bottom, doesn't it?
Forest Canopy Cowl -
by Susan Lawrence
Knitted in Artesano Hummingbird
The cowl calls to be blocked less rigourously than the shawl. It needs some of the 'elasticity' that underblocking leaves to ensure the neck stays upright when worn.
Wishing all health and happiness over the festive season and may the coming year bring all you wish for and need...
MERRY CHRISTMAS TO US ALL!
Thank you for your support and inspiration over the past year
Labels: Artesano Alpaca, cowl, Forest Canopy, Fyberspates, Hummingbird, Scrumptious DK, shawl