Vini, vidi, vici ...
... sewn up and about to be blocked!! My battle with the February Baby Sweater on Two Needles, by Elizabeth Zimmerman, is over:o) Conquered is obviously too strong a term. 'Survived' may be closer to the mark.
February Baby Sweater on Two Needles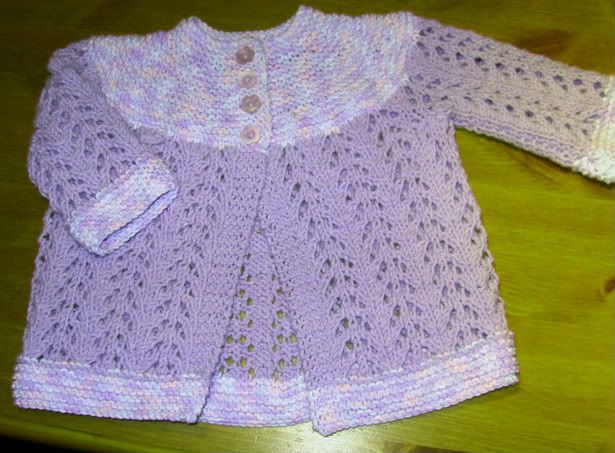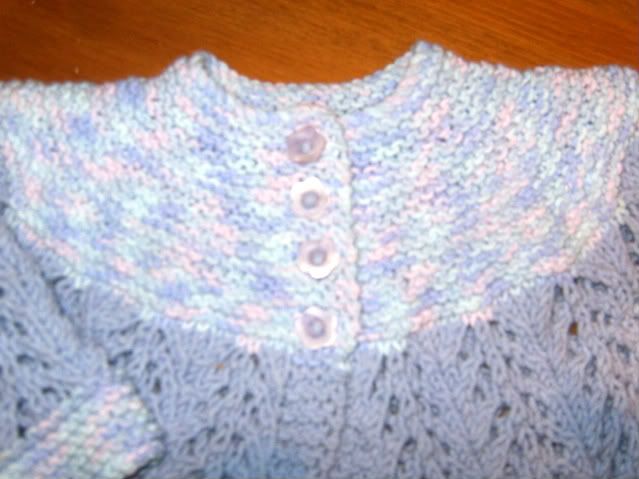 Many knitters love this pattern. With apologies to Zimmerman fans, I didn't find this an enjoyable knit at all ... and gritted my teeth to get it off the needles. I struggled with Elizabeth Zimmerman's style of instruction and pattern detailing. If anyone undertaking this pattern in the future finds themselves struggling (cursing, swearing and generally looking
boogley
eyed with the
whole
blooming process), there are some helpful guidelines and information
here
on
Ravelry
. I genuinely don't want to see anyone else struggle with a project - but the knowledge that I'm not the only Zimmerman-
dozyhead
did keep me going!
I hope to block the cardigan tonight and then it's off to little Grace ... and if anyone fancies a copy of The Knitters Almanac, please let me know;o)
On the other hand, Norah
Gaughan's
patterns suit my need for detailed instruction much better - and look what arrived in the post this week, Norah
Gaughan
Collection 3. The booklet contains a number of beautiful patterns - including
Loppem
,
Eastlake

Sweater
and East Scarf.
I'm gasping to cast on either of those sweaters, but WILL finish one of the half-done creations lying around the house first:o(
Good news on the health front too this week. I was seen by the Chest Consultant and the results of the recent Sleep tests show I don't have Apnea. However, the results do confirm I SNORE!! Like that news to anyone in the Blethers household;o) The Consultant reckons the excessive fatigue results from a combination of factors - (1) having an inflammatory disease and (2) a side effect of the
Methotrexate
. That explanation seems to fit for me ... the higher the
Methotrexate
dose has gone, the more knackered I've felt! He's writing to the
Rheumatologist
to ask that the
Methotrexate
be stopped and that the new anti-
tnf's
are considered.... Roll on my appointment in December!
Just wanted to end with a picture that represents an issue most parents will recognise - sibling rivalry.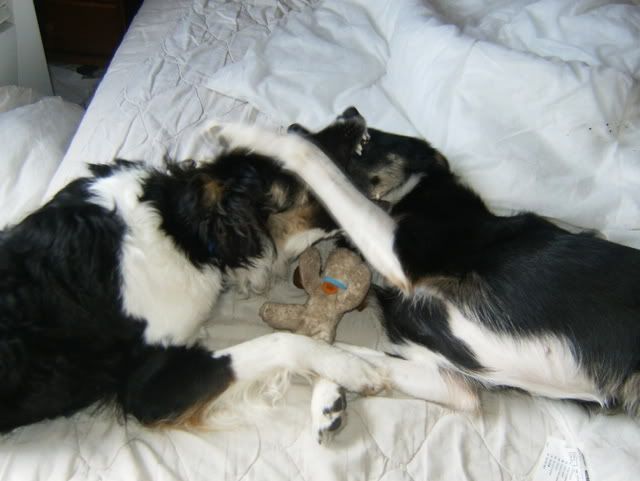 Islay's
sister came over to play! They are both arguing over
Islay's
favourite toy ... and looks like her sister's winning! Look at those teeth!
Labels: Baby Sweater on Two Needles, Collection 3, Eastlake, Elizabeth Zimmerman, Loppem, Norah Gaugan