Elizabeth Zimmerman....
... and I are
not
friends at the moment! I'd great plans of whipping up a little
February Sweater on Two Needles
as a wee token for my colleague's new granddaughter, thinking it'd be a breeze having already finished (stress free) three of the adult version. How wrong I was:o(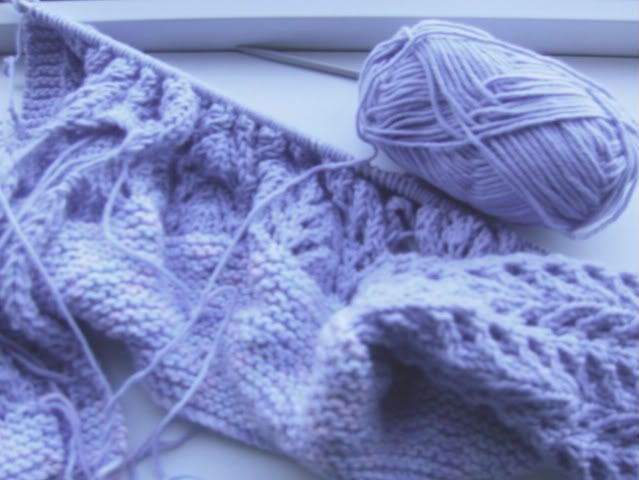 This blessed thing has become my knitting nemesis; leaving me scratching my head, stomping about my lack of knitting prowess.... The baby is now here and the blessed top is
still
on the needles! I've become a Zimmerman 'groupie' and am now a member of every EZ group on Ravelry. I've stalked poor knitters on Ravelry who have teasingly posted the cardigan on their finished project pages and hounded my knitting buddies on knitting forums (Thank you,
terri
!)....
Other knitters love this pattern and I absolutely agree the finished sweater is really sweet. My difficulty has come from trying to interpret the pattern instructions. For me, the instructions are somewhat sparse - the entire pattern is described over only 11 lines, with the gull pattern detailed as a seperate 4 lines. The sleeves have been where my problems arose. Patently, I've misinterpreted and was knitting the sleeve over 42 stitches initially - which may have worked for a baby with the arms of an navvy... I'm on the right lines just now and am working the sleeves of 28 stitches.
I will not be beaten;o) By next weekend, our battle of wills should be over and I'll be posting pictures of the completed garment!
However, there are positives from this experience:
I have new friends on Ravelry


I can absolutely vouch that Crystal Palace Bunny Hop yarn is a star which copes well with being knitted, frogged, re-knitted, re-frogged.... Despite all the abuse I've thrown at it, the yarn still looks and feels like a soft, squishy dream.



Insight increased too. It seems I am a technical, rather than process knitter. Give me instructions - direct, line by line instructions and I'm a happy knitting bunny. I don't do abstract or obtuseness in knitting, though seem happy enough to work with very loose parameters in other walks of life?
ooOOO

Look no further if less than keen on reptiles!
DD1 was off house sitting with her boyfriend the other week and left me babysitting! She's the proud 'mum' of 2 Bearded Dragon Lizards and absolutely dotes on her 'babies'...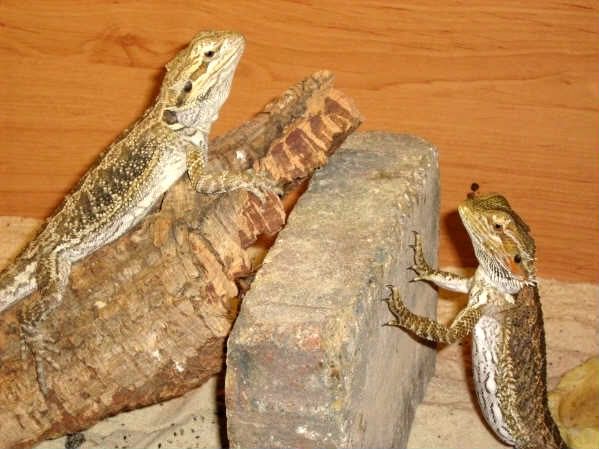 Saying hello for the first time

(Female at back; male in foreground)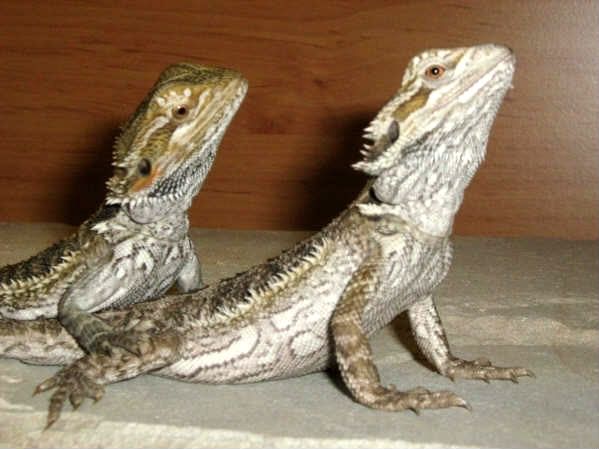 Labels: Baby Sweater on Two Needles, Bearded Dragon Lizards, Bunny Hop, Crystal Palace, Elizabeth Zimmerman