It may be September, but...
... it's cold enough for February!
Or, to be more precise, a February Lady Sweater. Pamela Wynne designed this pattern which has taken the knitting world (or at least, Ravelry!) by storm. Pamela has very generously made the pattern available, free, at
www.flintknits.com
. It's an extremely clearly written pattern and can be modified to suit personal tastes very easily.
I finished off this one recently and have made notes of the modifications I made as I went along: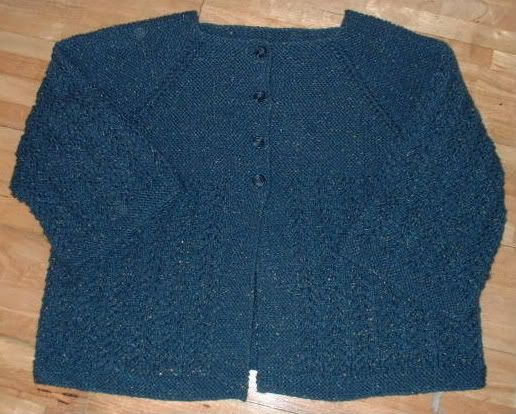 Started: 19/7/08
Finished: 15/8/08
Yarn: New Lanark Mills Donegal Silk Tweed Aran in Cobalt
Quantity: approximately 650g

Raglan increases:
I replaced the original m1's to yo's instead. This eliminated the need to work with stitch markers.

Garter stitch yoke:
Added an extra 11 rows of garter stitch after the increase row to accommodate my "hearty beauties"!

Button holes:
Added a 4th button hole to draw the yoke in more at the chest and to create more shape at the bust line.

Eyelet row:
Removed the eyelets and used kfb instead as didn't want the small row of eyelets above the gull stitch pattern.

Gull pattern:
Completed 20 patterns of the gull stitch (4 row pattern) for main part of the body.
A word of warning to those who have not yet tackled this pattern, it's addictive!! You may have to cast on more than one. Perhaps a subtle clue about future "finish off" pictures to come, you reckon?
ooOoo
On a personal front, some good news ... The reason behind my trip home and the pictures from the last entry was that the girls and I were visiting my mum whilst she was in hospital. After an admission of more than 5 weeks, mum is now home from hospital. It's great that she's back home, with an increased support package which should bring positive changes for both mum and dad.