Hat's off to.....
Two posts in a couple of days? Well, at least my blogging inconsistency remains consistent;)

MissB is sulking that more of my blogging/knitting comrades want to adopt the dog, rather than her! Bless her, it should come as no real surprise ... look at Abbie, the mutt's cheeky wee expression, makes her so much more adoptable;) Anyway, here's slightly better pictures of the 2 hats (especially for dreamcatcher).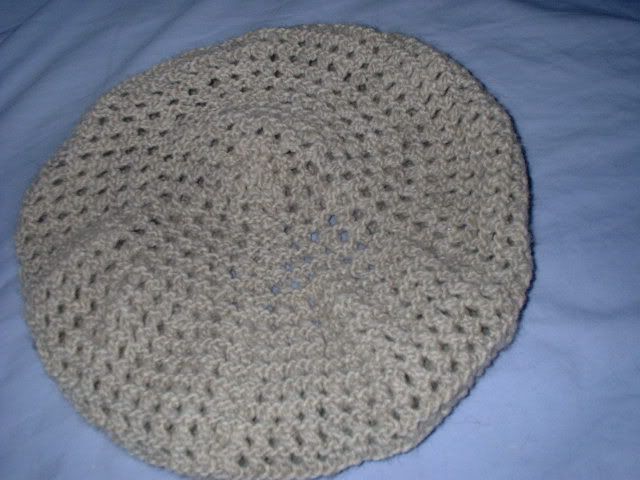 Sirdar Eco DK Lacy Beret
Sirdar Eco DK Lacy Pull-on hat
Knitted in one colour and minus knitted flower applique
On the eureeka-moment knitting front, the end of the dirge that is the Blue Mile is nearing! I've just got the sleeves to sew in and then seam it up! Halleluiah!! It's a nice enough style but, OMG, what a drag to knit! However, pictures of my knitting nightmare should be posted by next weekend:) One wee disaster on the last leg... In need of legal stimulation (coffee!), I placed my knitting on the settee to pop off to put on the kettle. There it sat, resplendant on its Brittany Birch needles... Then the daft pup decided to take her favourite squeaking pig toy onto the sett ee for a good old maul and chew. Leaping like an Olympic athlete, she dived on to the sofa, landing straight on top of the Brittany needles, snapping one of them in two:( I'd to finish knitting it on lopsided, non-matching needles...

Thank you, Angie - I'm really chuffed and love watching what you're up to on the crafty front. Am off now to decide who to nominate others who inspire me and make my day too...
Labels: hats, Make My Way award, Sirdar Click DK 8954, Sirdar Eco dk