Knitting for ... pleasure!
Two weeks since I last blogged and just where to begin!
I've scarcely done any knitting over the past fortnight but have reflected a little on how I've used our hobby/passion over the past few months... Knitting, as I'm sure it does for many of us, has always been a source of relaxation and stress reduction for me - you become wholly absorbed in the creative process, don't you (unless its the dreaded Blue Mile jumper!!)?
SS2 had been living with us for the last 16 months or so. I use the word 'live' loosely as, to be brutally honest, it's felt far closer to 'survive' than anything else. I'm not going to go into specific details - but it does set the scene a little when I say I went into work in an acute mental health setting as a respite from our life here:( During this time, I often hid myself each night in the bedroom, knitting like fury and almost for sanity salvation, whilst remaining hyper vigilant to any sounds that came from outside my room ...
The long and short of it is that SS decided he no longer wanted to live with boundaries and reasonable rules and has returned to his mother's on a permanent basis. The change in our home is already amazing .... MrB and I can sleep during the night; MrB is able to go out to work for more than an hour at a time (helpful when you're self employed!); DD2 had her friends stay overnight this weekend; stress levels are way reduced ... We have had one crisis since though - MrB was admitted to hospital in the middle of the night last weekend with breathing difficulties. He was on oxygen and a nebuliser for much of the week but is now back home, armed with an inhaler. I'd to give him 'breathing/ inhaling' lessons when he got home - with both of us on the settee puffing away at our Salbutamol! Who says romance is dead;) PHEW! That's more than I planned to say .... but it's said! The other big change is that I'm knitting again for
pleasure
, rather than for sanity:)
That said, my paltry efforts to date have been these:
1) There's been some progress on the Blue Dingy Mile. Back and front are both done and sleeves will be cast on today.
2) DD1 asked for a knitted mobile phone cozy ... and here it is! I think it's a 4 ply Posh yarn - I snapped it up from a fellow forum member on Crafty Threads n' Yarns (
Thank you, Pictish!). The pattern was designed by Nancy Mathews and is available at http://homepages.nyu.edu/~nw8/ .
I made a couple of little changes - a toggle and plaited hoop were added as fasteners. MissB has requested another already!
I posted it as my January entry to the Crafty Threads n'Yarns new yearly challenge... rather than making a pair of socks per month, we are attempting to make any item with sock yarn.

Sounds great fun - though doubt I'll manage any more than my less-than-overwhelming total of THREE items last year:)
3) There's only the neckband and sewing up to be done on the Noro short sleeves cardi.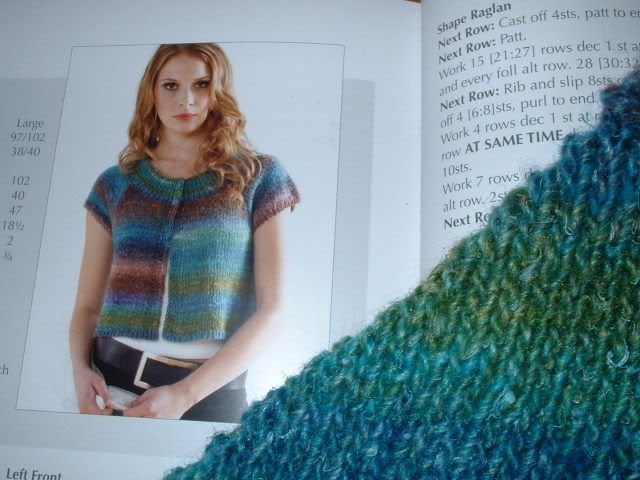 I visited the LYS yesterday to purchase an additional ball of the Silk Garden for the neckline. There was only the neutral, nondescript grey section of the yarn left from each of the original balls and I really want to have some of the teal and green on show...
My stashalong is going as well as always;) I succumbed and assisted Terri
(http://terriknits.blogspot.com
) with her de-stashing and bought the most beautiful Kilcarra arran (picture to be posted when the lovely squishy parcel arrives).
I've fancied knitting Pin Up Queen, from Stitch 'n Bitch The Knitter's Handbook, for some time and the delightful Murdo (
http://piratepurls.blogspot.com
) has helped me with library/pattern enhancement:)
I'd also been ogling at Sirdar's new Eco DK and had a smooze with it at the LYS. I fancied the Cabled Yoke cardi from the accompanying pattern book, but am less and less sure now. What do you think? To my mind the sleeves and the way the body attaches to the bodice looks a little lumpy??? And I am insightful enough to know that the Blether's body requires no additional bumps;) However, DD1 has placed a further order from the pattern book - the lace beret.
Fingers crossed and needles at the ready, we may have a FO by next weekend!
Labels: Cabled Yoke, Eco, lace beret, Noro, Pin Up Queen, Sirdar Click DK 8954