Wash rags and bags
What a grotty day we've had in South Wales today - with torrential rain, howling winds and semi-darkness all day! However, there's always a silver lining - I managed to drag DD2 to Hobbycraft this afternoon and she tholed the experience the best she could:) Albeit that included skulking around the end of all the display aisles in case her friends saw her in the wool lane! No number of reassurances that, should she be seen, it was because her friends' mothers had dragged them to Hobbycraft too and that they too were sharing her social humiliation:)
Bless her, DD2 seems to feature less in the blog than her elder sister - but for no other reason other than she mostly refuses to be seen in 'mum knits'. She has been badgering over the last few weeks and I have done my best to ignore her pleas for her desired project... a white, garter stitch scarf in some form of chunky wool. I know, fellow knitters, my heart sank too! But I'm casting on tonight and will thole the knitting experience in the hope that it converts her to more exciting projects in the future:(
And of more pleasurable projects:
The West Side Raglan has been worn to work and is the warmest, cosiest jumper I have. To be honest though, I reckon it'll require wearing with a t-shirt underneath as the Manos is a little itchy when directly on the skin ... or at least my delicate, uber-sensitive skin (C'mon part of me has to be delicate!!).
I've felted the Ringo Bag, pattern by Sue Morgan. This was a lovely straightforward knit, using Noro Kureyon. I had been thinking of it being one of my PFI gifts but am not entirely happy with it. The felting process went smoothly enough and has softened up the colours a little. I'm dithering over the size of the handles now that the bag has been felted - I feel they look too large now:( Here it is in it's pre-felted stated and I'll post the post-felted look once the weather clears enough to allow photography.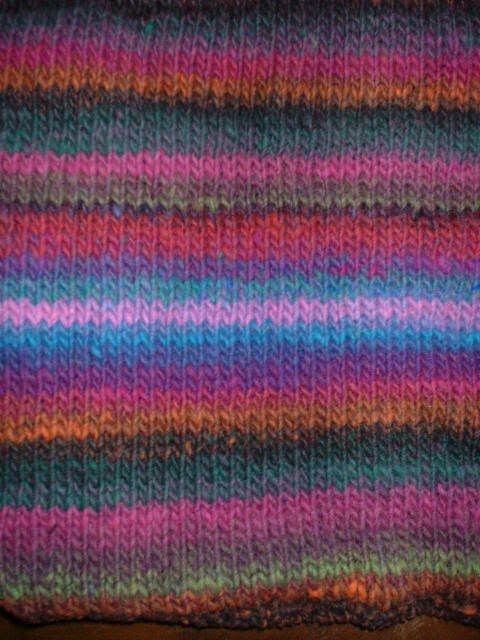 However, if I'm not entirely happy with it, I'd be uncomfortable gifting it and have already come up with another project instead. And I now have a new project bag with BIG handles!
I've been busy too making wash cloths. I'm using the Fiber Trends Bathing Beauties patterns - Leaf Lace and Ribbon Lace patterns. I'll be seeing these patterns in my sleep as I'm making 16 of them for Christmas gifts for my workmates, along with hand made soaps I've purchased from Etsy sellers.
Labels: Fiber Trends, Noro Kureyon, Ringo Bag, Sue Morgan, wash cloths