One Man and His .... Sam the Ram!
Still on a reading front, more books! This time of the
knittery
variety though! Despite the recent postal strike, these wee beauties popped through the letter box to add to the Blethers 'library' and ever increasing to-do lists...
Firstly, the Knit 'n Style magazine, December 2006 which
wung
its way over from the States (I couldn't track down a UK seller). I fell in love with the Diamond Cable jacket that
A Little Fuzzy
(

http://fuzzylittleblog.blogspot.com
) recently completed and the pattern was from this magazine. To be honest, I can't really see myself make any of the other projects from this edition ... in fact, many others seem to come into the Yarn Howler category (
ooooh
, I'm sorry if I've offended ... taste is such a personal thing, isn't it?). My next purchase and temptation comes via Debbie Bliss's
Rialto
pattern book. I'd been drooling over some of the Catriona projects underway on
Ravelry
... and it seems fated, given that my sister is called Catriona. I'm itching to cast on but am behaving till at least 3 more
WIP's
become
FO's
!! Silver Bells were ringing from the recent
VOGUEknitting
and I am also drooling over the Ribbed
Multidirectional
Tunic...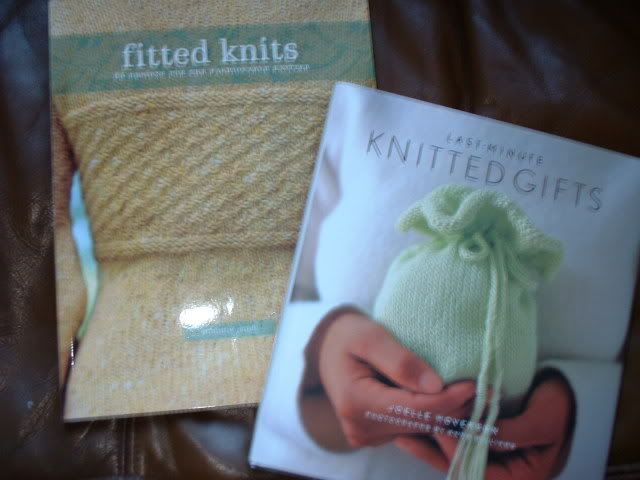 Stefanie
Japel's
(from Fitted Knits) Back to School U necked Tank looks to be one of those quick and guaranteed satisfaction knits and I'm still badgering DD1 to let me cast it on for her. There are a number of other patterns in this book that look interesting projects. My only dilemma is that the fitting may not be such a brilliant idea for me, given my recent meandering away from the GI diet plan:( Most of the patterns are designed to accentuate curves... Now, whilst I do have curves, they are unfortunately not the type that you necessarily wish to attract all eyes too;) Last Minute Knitted Gifts, Joelle
Hoverson
, has some beautiful ideas for pressies and wrapping to complement the gifts. This book has the pattern for the 'must have' Chevron Scarf - and, at some point, I must have that scarf!
Brigitte is my favourite pattern in the Sublime book and looks like an easy knit (all my brain can cope with at the present time!).
Carica
and Alva, both made in
Colinette
Banyan, are also very much on my lust list just now!
I'd mentioned that DD1 has recently passed her driving test. Having spent 18 years keeping my cherub safe and being responsible for her well-being for all these years, what a weird experience putting my life into her hands the other day! Bless her, she drove the 2 of us to return some clothing items to a large supermarket nearby. Her boyfriend fulfilled all the role demands of the 'back seat driver' - allowing me to sit silently and blamelessly in the front passenger seat as he gave direction and instruction from the rear;) At the end of our short journey,
MissB
was quite tight lipped but with vastly increased insight! For months, DD1 had sat in the front passenger seat as I drove. Her party piece was to screech 'Commit!' as I approached
EVERY
junction, right turn, traffic light .... She now is all too aware just how infuriating that was!!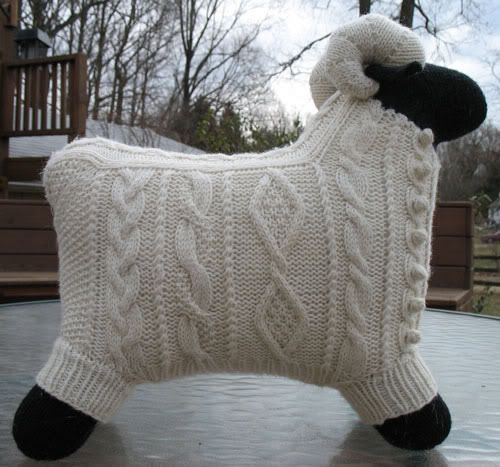 Anyway, in the spirit of mutual driving and familial bonds, I have agreed to make her Sam the Ram for her car. Isn't he fab??? The pattern was designed by Rita O'Connell and is available from 3
kittensNeedlesArt
. This Sam was knitted by
Knittingpark
(
www.ravelry.com/patterns/library/sam-the-ram
) and more details are available on her
Raverly
profile. I don't know if anyone else has ordered much from the 3
kittensNeedlesArt
site? I've recently ordered several patterns from there and can't recommend them highly enough. Their customer service is second to none!
Look at these 3 though - think there's any chance of them rounding up any sheep???? Nah ... nor do I!!
There has been some progress on the knitting front too. I've spent all day sewing up West Side Raglan and will post pictures later in the week. I'm really pleased with how it's turned out and reckon it'll get lots of use. I did giggle when I saw in my earlier entry that
I'd
managed to re-name the pattern as the West End Raglan .... a bit of Glaswegian twang and lingo seepage there methinks! I've finished another 2 projects too but they were completed for my
PIF
and won't post those pictures until the items are safe in the hands of their recipients. Fingers crossed they like them as much as I've enjoyed making them...
Labels: Back to School Tank, Catriona, Chevron Scarf, Debbie Bliss Rialto, Sam The Ram, Silver Bell, Stefanie Japel