Before and after
The weather conspired against earlier posting of the felted Ringo Bag. At last, there was a gap in the driech weather we've been having in South Wales and a 2 minute glipse of sun amongst the storm clouds set me running for the camera... much to the amusement of the service users who were in the department at the time!
The 'before' and 'after' pictures...
After felting - 2 60 degree cycles (agitated with 2 pairs of jeans and a pair of crocs!)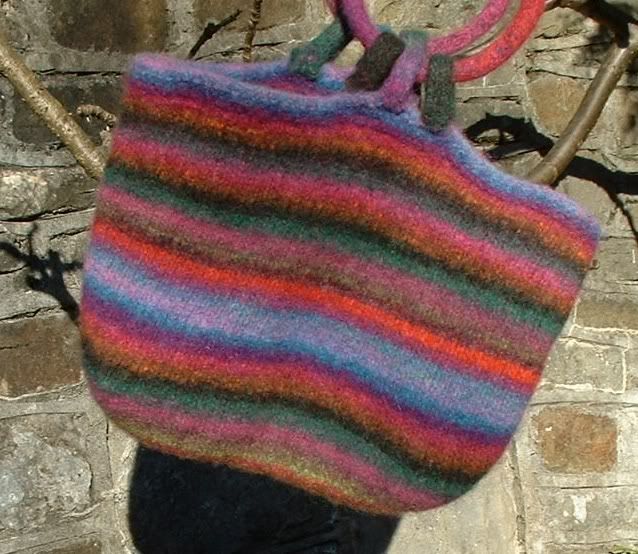 And before the felting process:
Last night, DD1 and I went to the cinema to see
August Rush.
Taste in films is probably as personal as our varying preferences for yarn ... but cinematic critique from both of us is
DON'T rush to view August Rush.
We both found the characters pretty unconvincing and neither of us particularly empathised with any of the 3 main characters. The male adults Irish accents were naff.... Need this grumpy Barry Normina carry on?? I kept sneaking peaks at DD1 ... to find her looking at me and laughing that we were sitting through such tosh! Maybe DD2 had seen other reviews as she just giggled as she declined the cinema offer, saying she'd rather watch paint dry ... or wind skeins for me (and I know just HOW much she loves that particular activity!).
Ever feel that you're losing your marbles? I spent all day yesterday on a marathon, frantic house cleaning - and made a point of getting up early this morning to finish. My aunt and uncle were planning to visit and I couldn't cope with them arriving to the long-term building site that we call home... As the morning wore on, I thought it's strange they haven't called to give an approximation of their arrival time - so ventured back to check their email. They're coming on DECEMBER 3rd!! Och well, at least the house will only need a tickle of housework for their visit NEXT weekend:)
DD1 took this photo on her mobile of our daft middle dog, Molly. As you can see, Molly is absolutely intrigued by DD1's rats - she sits for hours, staring at their cage, without moving. She makes no attempts to harm them at all. Obviously, Ratty decided to be sociable and say 'Hello'!