Opulent Opals ...
For the past few weeks I've been toying with placing myself on a self-imposed
stashalong
:( My recent purchases vastly outmatch my speed with needles - and, as a result my stash has taken on new proportions. Now, we all have differing views on having 'an immediate availability of beautiful yarns out with shop opening hours':
ie
. stash! My views differ somewhat from
MrB's
'ANOTHER parcel arrived for you today'. Apparently, even the post man has commented that I am keeping him fit carrying squidgy parcels full of promise to the door - and its a lovely bonus the new found kindred
spiritedness
and developing friendship between between
MrB
and the postie;)
So, when Button (
http://www.p2tog.moonfruit.com
) posted temptation on the Crafty Threads n Yarns forum, I scrapped my newly made
Stashalong
Ticker and
succumbed
to these 2 lovelies from the new Opal
Rainforest
3 collection! Aren't they great?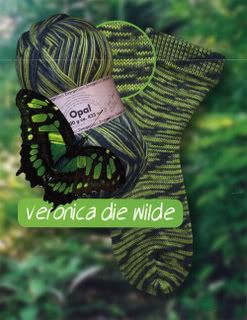 Och well, maybe I should create a ticker about
thinking
about
stashalonging
:)

I reckon many of you may be signed up to various Pay It Forward rings - for more background, please check out the entry below. If you're still available and reckon it looks like a fun notion, please feel free to join here. I'd love to have the chance to make a small gift for you and to be part of spreading a little of the knitting
camaraderie
that exists in our online community... To join, just give me a wee shout here in the comments section!
Labels: Opal Rainforest 3, Pay it forward