Uncharted territory!
I love cables ... love
arans
... the more complex the pattern the more I like it! However, what is it about me and charts??? I become a gibbering
eejit
when presented with a pattern in chart form! Give me an
olde
worlde
pattern with the instructions written out row by row and I'll show you one very happy, unstressed
cabler
:) However, there are such beautiful patterns available now in charted format that I'm biting the bullet (0r chart deciphering skills) and am making reasonable headway on Norah
Gaughan's
stunning Turbulence U neck jumper (pattern in Norah's Knitting Nature book ... what stunning patterns in this book. I love it!).
The pattern recommends that you use
Berroco
Softtwist
yarn which I found extremely difficult (impossible!) to source in the UK. I now have some winging its way to me from the States (Thank you,
texasyarns
, eBay seller) in a lovely taupe shade. However, I was so keen to cast on this jumper, I have subbed and am doing my original, pilot-run in Debbie Bliss Cotton
dk
(a
humungous
thanks to the
de
-stashing
Pictish
on Crafty Yarns
N'Threads
forum!!) in a glorious terracotta shade. My knitted wardrobe will
overflo'eth
! Will post progress pic over the weekend...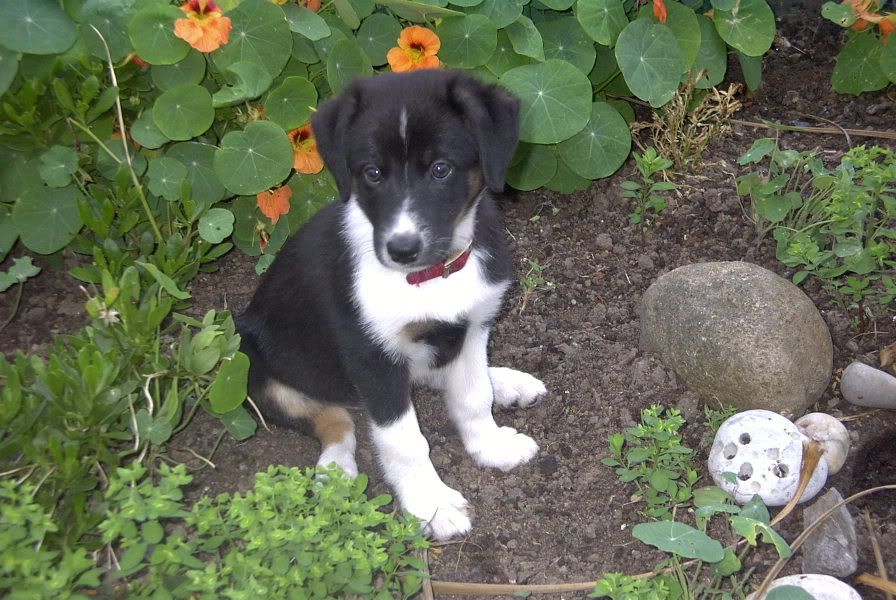 And on a celebratory note, guess who's the birthday girl today ...
Isla
, the returnee pup, is one today. Maybe better not remind
MrB
of the date as it'll trigger memories of the £280+
caesarian
section vet bill:) Wasn't she worth it though!
And on a final very excited note, my
Berroco
yarn has just been delivered to the door in the last 5 minutes! MUST, must finish the one on the needles at the moment!!
Labels: Berroco Soft twist, Debbie Bliss cotton DK, Turbulence U neck sweater