Sneaking in the carrier bags ...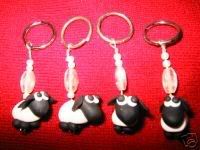 Shooosh .... Don't tell Mr B ... I've been in therapy again. Retail therapy that is!! Just wanted to share these with you. The first is a waistcoat I have bought from my mum's Christmas present (eBay: Seller Josie2808). I can't tell you how impressed I am with Josie's work. There are about 21 different yarns used of varying textures and weights. The finishing off is beautifully done too. I can but dream that one day I'll be able to produce something of similar complexity and competence. It's a little more lemon/peach than the picture suggests ... but its exactly the colours my mum chooses and I plan to add a set of those Icelandic/Celtic pewter fastenings just to finish it off. My other wee buy made me smile; these quirky stitchmarkers were made by donnac1968. I love them!
On the knitting front, still no finish off's from the queen of avoidance!
However
, I have cast on yet another project - a tank top in Twilleys Freedom Spirit for DD1. She opted for the Force colourway and, so far, I've found it lovely to knit with (really soft and squidgy).