DD2 - named and shamed in the sock dept!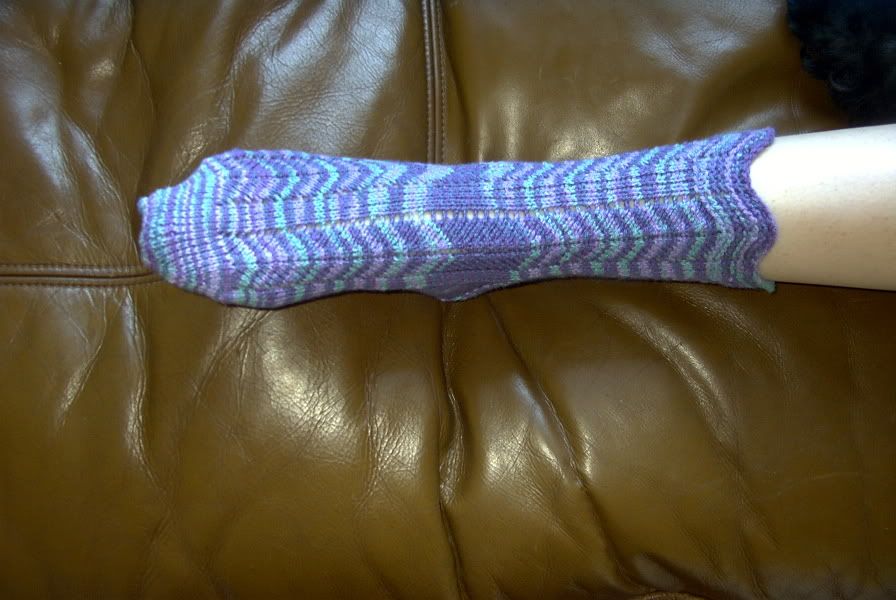 I love my little cherub dearly - honestly! She makes me laugh endlessly and is such a conscious and unconscious wee comedian she is impossible to be cross with for more than a few moments. At the beginning of the year, DD2 was diagnosed with moderate-severe Dyslexia and also Dyspraxia. She has made me so proud with how she has applied her self since and about how well she has coped with these new labels. I know I sound like a typical doting and proud mother ... but here it stops!! Bless her hand-knitted socks, the girl has NO taste when it comes to the fine art of yarn selection!! She sentenced me to knitting a pair of socks in Lorna's Laces (which I covet normally). However, NOT in the Sherbet colourway ... It, as already posted, was a real challenge to finish off these socks and I hated doing them with a vengeance.
Her penance, in return, was to have her feet posted in cyberspace!! So, here she is ... modelling the dratted and never to be repeated socks!
Pic 1: the sinner socks (Oh so Beautiful) hiding behind my very first, very own pair (Broadripple)
Pic 2: Opal Flamingo socks and trainers made for covert sock convert, DD1
Pic 3: closeup of MY little beauties, Broadripple in Cascade yarn